Perseverance Story: John Britten
© Jenny Jenkins 2015 
https://sites.google.com/site/valueslessons 
His teachers didn't know it, but John Britten was clever. He was dyslexic and was hopeless at reading, and though he tried to learn his spelling words and times tables, by the next day he'd forgotten them. However, there are other ways of being clever. John was really good at making things out of junk. 
  When he was five he made his first go-cart, using wooden boxes and old pram wheels.
Show Image 1 
 It was fun to ride on, but he dreamed of going faster.
  His dad owned a bike shop in Christchurch, and by the time John was ten, he had learned to put new bikes together. His dad let him keep the wooden bike boxes, and he took them home to build things. 
  John was always thinking up new ideas. He drew the plans for them in an exercise book.
  At the age of eleven John had saved up enough money to buy a motor, so he drew careful plans and built a real go-cart, welding the metal frame in his dad's workshop.
Show Image 2  
 It was noisy, but fast!
  Once John and his sisters held a fair in their backyard with stalls, sideshows, and a ghost train. They covered the jungle gym to make a spooky tunnel and John's go-cart became the train engine. Dressed up in scary costumes, they jumped out at the passengers as the train roared through the tunnel. 
  When he was thirteen years old, John and his friend Bruce went on holiday to a farm near Gore. As they were jumping over a ditch, John noticed a bit of rusty metal sticking out of the mud. They began to dig around it. "It's a motorbike," John cried in delight. 
Show Image 3
  They dug, they pulled, they heaved, but they couldn't get it out, so they ran to find the farmer. 
  "We've found an old motorbike," John panted, "but we can't get it out of the ditch. Will you please help us?" 
   The farmer looked at the muddy boys, their eyes pleading. He climbed on his tractor.
  "Show me the way." The tractor pulled the rusty old motorbike out of the mud.
  Back at the farmhouse they hosed it down. "This bike's an Indian Scout!" John exclaimed. "My grandfather used to own one. It must be almost fifty years old. Can I take it home and fix it up?"  The farmer nodded. 
  Ringing his dad to ask if he could bring it home, John pleaded, "Please Dad, I'll do it up myself. Can I keep it?" His dad reluctantly agreed. 
  Back home, John began taking the bike to bits in his dad's workshop. He took off the wheels, handlebars and fuel tank. 
 The next weekend his parents went away on holiday, and John decided to bring the engine into the lounge. 
 He wanted to work on it while he watched TV. He carefully spread an old newspaper on the shag-pile carpet and began to undo the bolts holding the engine together. He pulled and tugged on the spanner but the rusty bolts were hard to budge. Finally, with a jerk, he got the last one loose.  He watched in horror as a flood of dirty black oil streamed out of the crankcase, across the newspaper and onto the carpet. 
  "Make it stop!" screamed his sister, but it was too late. 
Show Image 4  
They soaked most of it up with rags but, no matter how hard they tried, they couldn't get rid of the stain. His parents were furious when they got home, but they let him keep working on his bike - in the garage. 
  John and Bruce worked hard for months; sanding rusty parts, fixing broken bits and replacing the parts they couldn't repair. 
They painted it red and black and fitted it back together. It looked like new.
Show Image 5  
The family stood around admiring it. Swinging his leg over the saddle, John kicked the starter peg. The bike coughed a few times and then roared into life. Everyone cheered. John's dad took them out to a quiet country road where they raced up and down. Now John had all the speed he'd dreamed of.
  On a visit to his grandfather, John learnt how to use a wood lathe. He scrounged old bits of native timber from demolished houses and fitted them onto the lathe. When it was spinning fast he used a sharp chisel to carve them into beautiful big candlestick holders. 
Show Image 6 
 He wanted to sell them, but couldn't find large enough candles, so decided to make his own. Visiting a busy restaurant, John asked if they would save their burnt down candle stumps for him. Every couple of weeks he'd collect them, melt them in a pot on the stove and pour them into a mould with a wick in the middle. The attractive candlesticks sold quickly.
   The Britten family loved skiing, and Mr Britten had bought them plastic ski boots in America.
Show Image 7
Back then you couldn't buy them in New Zealand. John grew out of his and decided to make a new pair from fiberglass. He was working in the kitchen and some fiberglass dropped onto the cork floor tiles. It set solid. John tried to scrape it off with a knife, then he tried a chisel, but it wouldn't budge. With a sinking feeling in his stomach, he heard his mother's footsteps approaching. She glanced from his guilty face to the mess on the floor. 
  "Sorry, Mum," he said. 
  "John! When are you ever going to learn!" she scolded, and banished him again to the garage.
  Once, when his family were in the mountains skiing, John found an ancient broken-down truck behind a ski lodge. The owners were glad to get rid of it and John arranged for it to be towed back to their home.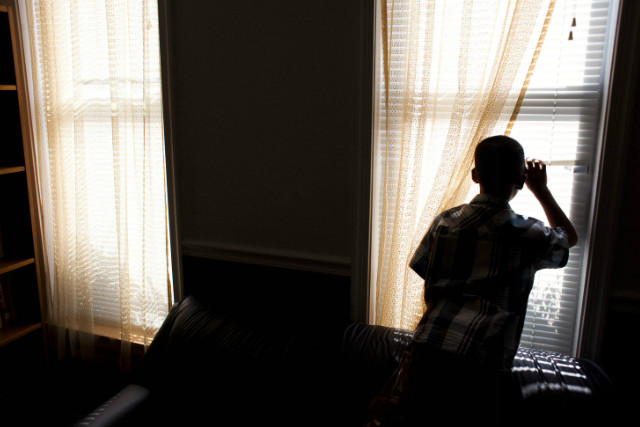 Next door lived a boy called Richmond, who was three years older than John. 
Show Image 8 
His bedroom overlooked John's garage and he shook his head in disbelief as the rusty old truck was towed in. He'd often seen trailer-loads of junk coming in for John's different projects, but this one looked a real wreck. 'Why would you want to keep a useless heap like that?' he scoffed.
  The next few months were a busy and happy time for John, as he took the truck's body apart and restored it piece by piece. His friends would drop in for lunch, and John would cook them up a baked beans feast before they all began sanding off rust. 
Show Image 9   
John welded in new metal to cover the holes, sanded it smooth and painted it. When it was time to paint the truck's bottom, a group of his friends biked over and they carefully tipped it upside-down. John painted the wheel-spokes black and the truck's body bright yellow. 
  Richmond glanced out of his bedroom window. A group of friends and family had gathered around the garage next door. John had been banging away every night for weeks on some project. Was he finally finished? 
  An engine roared into life and everyone moved back from the door. Richmond stood at the window to get a better view. Suddenly he whistled in amazement. Out of the garage drove a shining yellow vintage truck, with that skinny fifteen-year old grinning proudly in the driver's seat. 'There's more to John Britten than meets the eye!' thought Richmond, impressed.
  When he drove it to school the next day, John's teachers thought the same. "Maybe there's hope for the lad yet," his English teacher murmured.
  John learnt how to work with leather and made himself boots and belts. He carved a beautiful stone lantern to decorate the family's rock garden. Next he made a reclining chair from metal and leather. As he got older, John learnt how to make stained glass windows. To earn some money, he designed and made lovely lamps with colourful glass shades. He found another rusty old truck and rebuilt it into an elegant vintage house-truck. 
You can see it in the Queenstown Museum.  
Show Image 11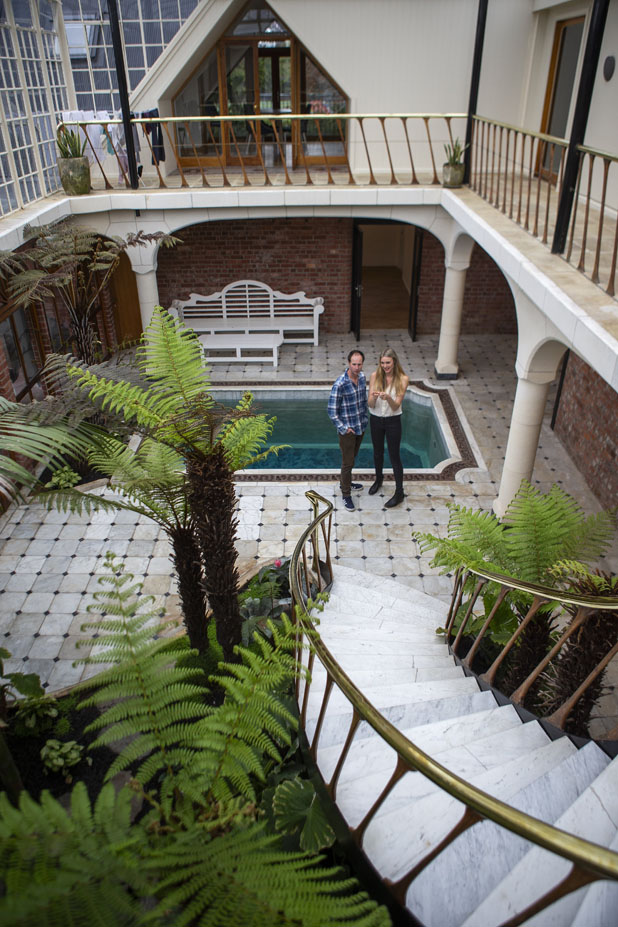 As a young man, John bought a large old brick stable. He worked hard for twelve years and turned it into a magnificent mansion with marble floors and stone columns. 
He dug an indoor swimming pool with a garden spade. It had a little fountain, and was surrounded by palm trees. Next to it was a grand sweeping staircase leading to the top floor. 
Show Image 12  
He made most of his stylish home from junk, collected from demolished buildings. He made his own bathroom taps shaped like swans.
  Even as an adult, John dreamed of speed. In his garage, he and a team of friends designed and built a radically different motorbike.
It looked spectacular, won international races, and broke four world records.
It became world famous. You can see it on display at Te Papa Museum in Wellington.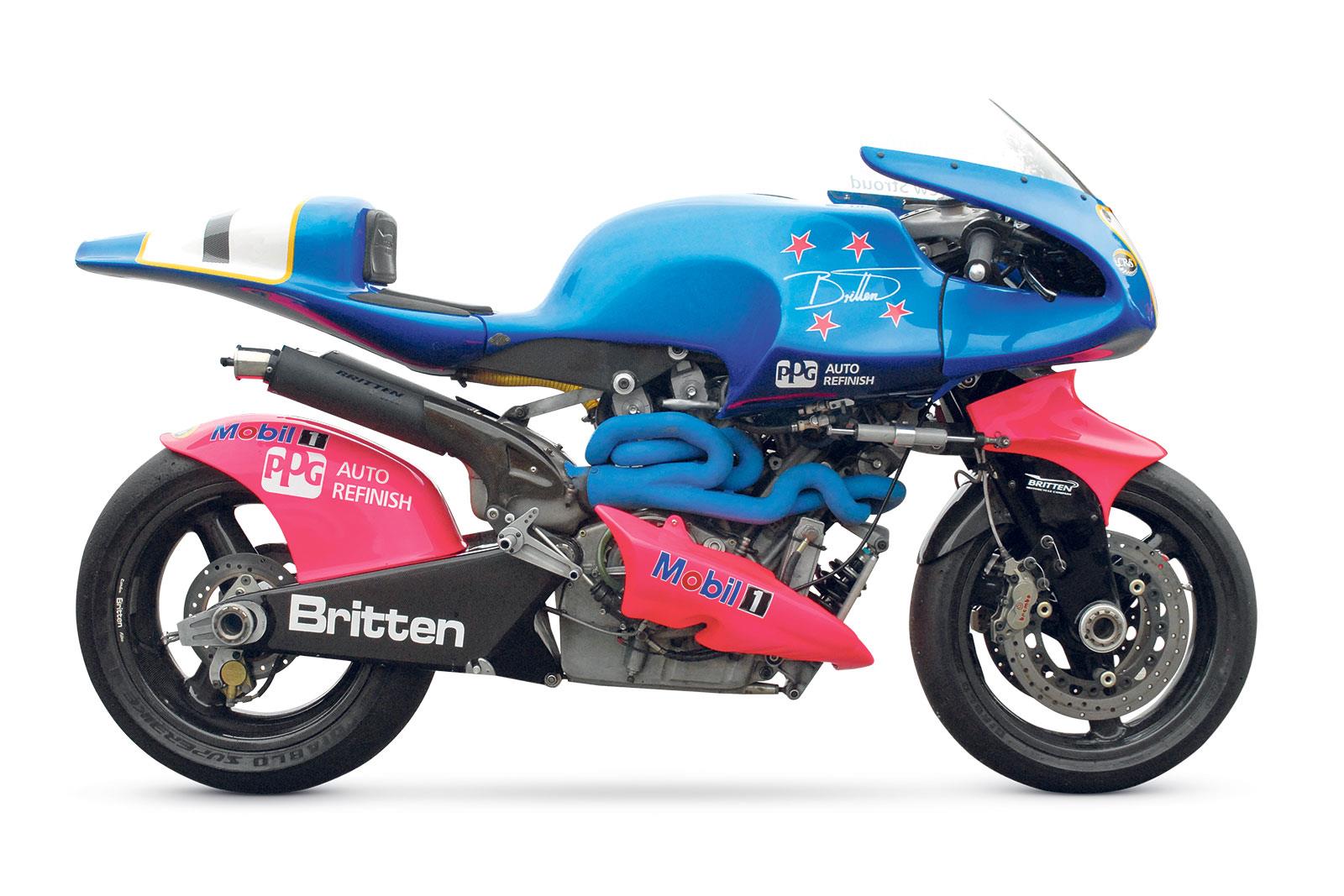 When John was still at school, the principal had told him, "You'll never amount to anything." But John didn't give up. He learned as much as he could, persevered and made many wonderful things. And so could you. 
© Jenny Jenkins 2015  Resources: 'John Britten' by Tim Hanna, 'John Britten, The Boy Who Did Better,' by Jennifer Beck
1. John and his friend showed a lot of perseverance trying to get an old motorbike out of a farm ditch. What other ways did John show perseverance with the motorbike? (Talking his dad into letting him keep it, undoing the rusty bolts, cleaning up the oil from the carpet, sanding rusty parts, fixing broken bits and fitting it all back together.)
2. What was his reward? (A motorbike that looked like new, with all the speed he'd dreamed of.)
3. What are some other projects of John's that took a great deal of persistence and perseverance? (The wrecked old truck from the ski-field, the vintage house-truck, the house he converted from a stable.)
Visual Aid
Print out the images or make a Powerpoint presentation with them, to help your students to visualise the story. 
Optional Movies 
1. Top Gear documentary about John Britten.. (7 minutes.)
2. A 2 minute introduction to John's famous motorbike
3. For a close up look at some of the bike's innovations, watch the first 3 minutes of this clip: